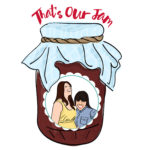 It's our series finale and because we have a lot of Gilmore Girls revival feelings, we're spending the entire time discussing : A Year In The Life and Seasons 1 – 7. We also talk Hamilton, because we're required by law to mention it at least once an episode.
For links & more info on what we talked about in this ep, check out the supplemental reading on our website!
Thanks for tuning in all season! We'll see you next year!
Follow us on Twitter: @ThatsOurJam